Corporate Power Purchase Agreements
Renewable energies are increasingly competitive and it is today possible for companies to integrate them into their energy supply. For this, there is a simple, effective and innovative tool: the Corporate Purchase Agreements (PPAs)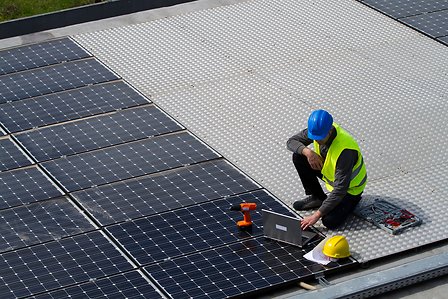 Corporate PPAs, an innovative market solution
Corporate PPAs are long-term electricity purchase contracts signed directly between renewable energy producers and a consuming company. They allow companies to:
Reduce their CO2 emission by integrating renewable electricity into their energy mix;

Secure an energy price over a long period of time (5 to 20 years) in order to reduce market risks;

Be recognized as a leader in the energy transition.
The Solvay Energy Services offer

Solvay Energy Services, in partnership with Orygeen, assists you in your energy transition thanks to the development of simple, flexible and transparent Corporate PPAs.

We put at your disposal 12 years of experience and knowledge of the electricity markets and in the marketing of green electricity (Power aggregation: Our solutions for producers);

We help you develop a supplying strategy in line with your ambitions;

We select for you the most competitive green electricity production assets, in an independent way.