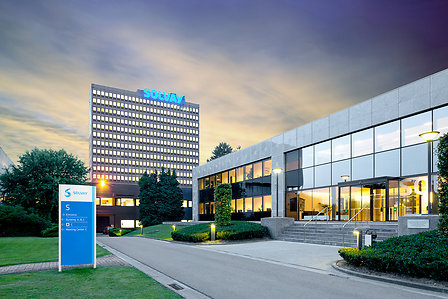 Solvay Energy Services
Solvay Energy Services is a Solvay Group company specialized in energy and CO2 management. We provide solutions for energy supplies, energy efficiency, and investment in sustainable development projects.
Solvay Energy Services has arisen from Solvay Group's expertise in energy and CO2 management for its industrial sites. For several years, Solvay Energy Services has been putting its knowledge to work for clients outside the Solvay Group, and has helped them to make energy a leverage of their competitivity.
The Solvay Group
Solvay is a multi-specialty chemical company created in 1863 by the entrepreneur Ernest Solvay, which is committed to developing chemistry that addresses key societal challenges. Solvay innovates and partners with customers in diverse global end markets. Its products and solutions are used in planes, cars, smart and medical devices, batteries, in mineral and oil extraction, among many other applications promoting sustainability.
In 2015, Solvay renewed its sustainable development ambitions by making five commitments for 2025:
Reducing the Greenhouse Gas intensity of its activities by 40%, measured in Greenhouse Gas emissions per euro of value added.

Halving the number of occupational accidents at Group sites

Reaching a people engagement index of 80% compared to 75% in 2015

Having at least 50% Group sales with Sustainable solutions

Having 40% Employees involved in societal actions
The Group, which is headquartered in Brussels, employs about 27,000 people in 58 countries. In 2016, Solvay had a turnover of €10.9 billion, 90% of which was for activities in which it is in the top three companies worldwide.